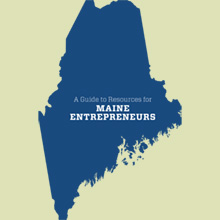 The 3rd edition of A Guide to Resources for Maine Entrepreneurs is off the press! Intended to provide a starting point for entrepreneurs seeking resources in Maine, it is also designed to help the individuals and organizations that support entrepreneurs and startups to match resources with those in need.
Categories in the guide include:
Training, Technical Assistance & Mentoring
Financing & Capital
Incubators & Workspaces
Libraries
Networking & Advocacy
State & Regional Economic Development
Recurring Conferences & Events in Maine are listed as well.
Download a PDF of the Guide here. If you would like to order hard copies, please contact Susan at susan@newheightgroup.com.
NewHeight Group wishes entrepreneurs the very best with their endeavors and is grateful to all of the organizations that support entrepreneurship in Maine. Let's grow this economy one person and company at a time.