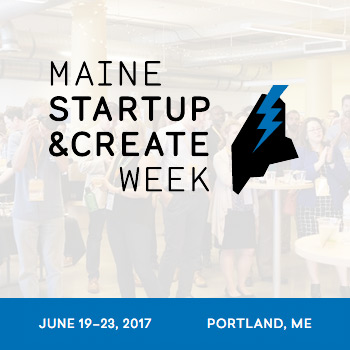 Maine Startup and Create Week: When Portland Takes Center Stage for Innovation
This is the week to gain expert insights, build skills, and make meaningful connections. Held June 19-23, Maine Startup and Create Week features a multitude of seminars, hands-on workshops, keynote speakers, and networking events. Over the past four years, more than 300 speakers from 30 states and three countries, along with 4,000+ participants, have participated. Is 2017 your year?
In addition to walking away with a plethora of insight and new knowledge, you'll wrap up the week with a profound sense of community among those inspired by what is happening in the world of entrepreneurialism, the potential that it holds, and wanting to be a part of it.
It's so exciting to witness this kind of magic taking place right here in Portland. Part of the draw of this event is knowing professionals and companies no longer need to go to big cities to discover innovation and creativity – it's here, and life is good in Portland!
To learn more about this intimate week of cutting-edge content, applied learning, and relationship building, visit www.mainestartupandcreateweek.com. Weekly and daily passes are available.